University of Delaware's Football team opened the season on Thursday with a 22-3 home win vs Delaware State University at Delaware Stadium.
The Danny Rocco era at University of Delaware is starting on a high note with his first win coming in his debut game. Rocco is the fifth Delaware head coach to win his debut game joining Dave Nelson (1951 vs. Lehigh), Tubby Raymond (1966 vs. Hofstra) K.C. Keeler (2002 vs. Georgia Southern), and Dave Brock (2013 vs. Jacksonville, Fla.).
While the end result looked like a blow out, things started out slow for UD who did not get points on the board until 2:07 left in the 1st quarter.
The first points of the season for the Hens was 2 points thanks to Defense Lineman Cam Kitchen tackling DSU's Running Back Mike Waters for a Safety in the End Zone.
The offense had two touchdowns on the night but the defense really took control of this game for the Hens.
The Hens defense had the Hornets offense uncomfortable all game and forced three turnovers, including 2 fumble recoveries and an late interception by freshman Nijuel Hill in the 4th quarter to seal the win.
The Hens defense held DSU's offense to 224 yards and held them to only 3 successful third down conversions out of 13.
At  halftime the score was 8-3 Delaware which is not usual for the Blue Hens with DSU which they usually are up big at this point.
After halftime the Blue Hen offense looked more alive and found their go to man in Wide Receiver Diante Cherry who scored two touchdowns in the second half.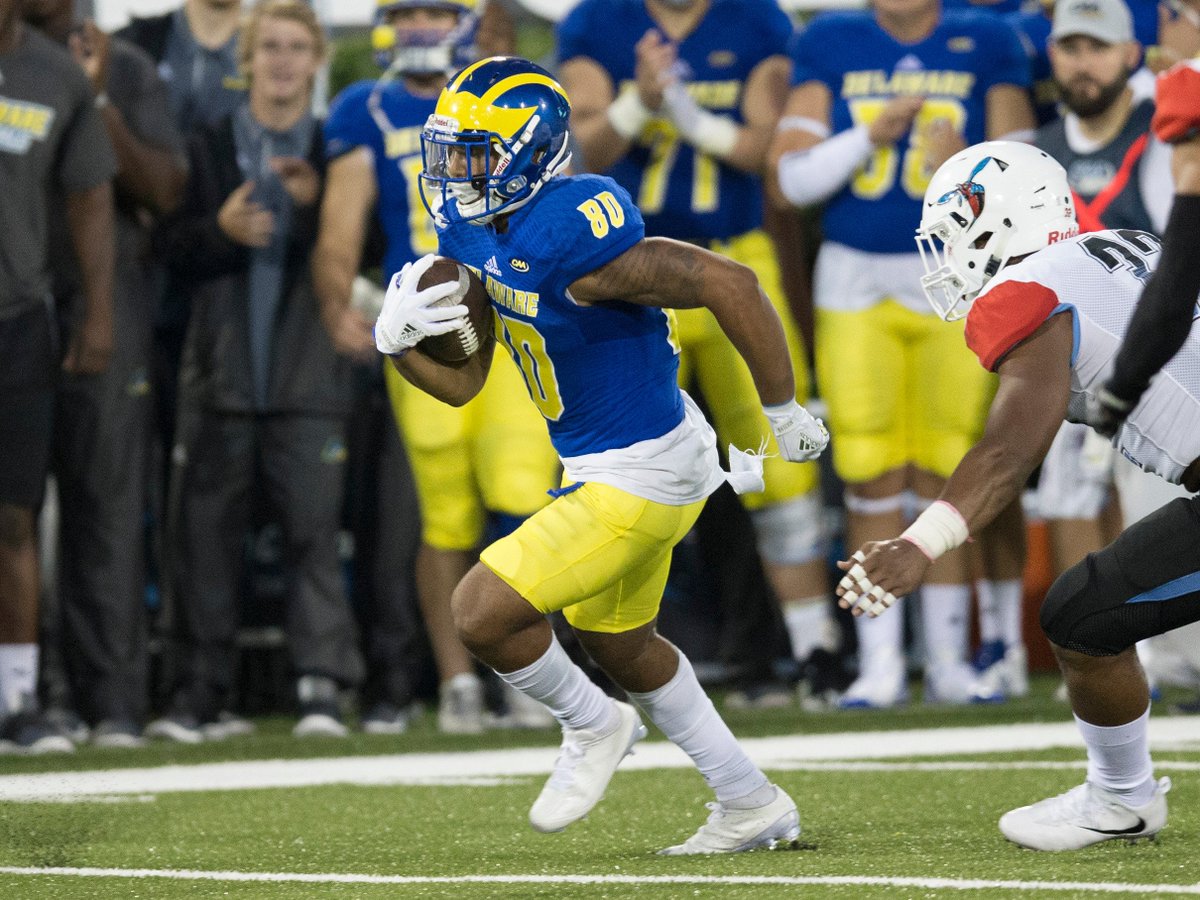 Cherry's first TD came with 2:48 left in the 3rd quarter with a 31 yard bomb from QB Joe Walker.
The 2nd Cherry TD was a 19-yard rush TD which he dived almost 5 yards to get the score with 6:22 left in the 4th quarter.
Cherry was named the MVP of the game for the two touchdown performance vs DSU.
Another Blue Hen player who had a great night was RB Thomas Jefferson who had 102 yards in the game. This is Jefferson's 6th career game with over 100 yards rushing.
Blue Hens QB Joe Walker went 13 for 26, a career high 192 passing yards, 1 INT and 1 TD in Thursday's game.
Since 2007 when the two Delaware teams have had the annual meeting, Blue Hens have won all eight meetings with an average of 27 points per game.
Blue Hens have now won it last 9 of 13 season openers, 25 of its last 28 home openers, and 25 of its last 27 games vs. non-league opponents at Delaware Stadium.
The Hens face a real test next week when they travel to Blacksburg, Virginia to take on the Virginia Tech Hokies out of the ACC conference.
Quotes of the Game:
Diante Cherry on the Offense struggles in the game:
"I was trying not get down on myself (after dropping a sure touchdown on a crossing pattern pass from Walker in the first half). You are going to make some mistakes in a game and I just needed to bounce back. I felt like we were executing things, but when it came down to crunch time, converting third downs, getting into the end zone, we just didn't do that very well. We just have to watch the films and see what we can do better as a team."
Blue Hens Head Coach Danny Rocco:
"I certainly recognize tonight the significance of team here at Delaware. I recognize the significance of the production of the game and all the involvement from so many people. I want everyone to know how much I appreciate all the support. We had a good crowd and there was great energy out there tonight."
Coach Rocco on the inconsistent play by the Hens:
"I think that calmness allowed our football team to finish with some confidence. We certainly didn't play as well as I expected us to play. We did the things we had to do to win the football game. We finished in a way that allowed us to be the better football team out there tonight. We did some good things but we were just way too inconsistent."
Coach Rocco on how Defense came ready to play vs DSU:
"I thought our defense held up their end of the bargain. I thought the two second half takeaways were probably the two most critical plays in the game. They really took away any hopes they had to actually win the game and gave us just enough momentum to go down and finish the drive and extend the lead. I've been doing this a long time and I know how hard it is to win a college football game so we are very happy to get the win."
Stats:
Quarterback:
Blue Hens
Joe Walker: 13/26, 192 yards passing, 15 yards rushing, 1 passing TD & 1 INT
J.P. Caruso: 2/3 & 14 yards passing
Hornets:
Jack McDaniels: 12/28,  165 yards and 1 INT
Running Back:
Blue Hens
Thomas Jefferson: 102 yards on 19 carries & Averaged 5.4 yards per carry
Kareem Williams: 67 yards on 14 carries & Averaged 4.8 yards per carry
Hornets:
Brycen Alleyne:  47 yards on 9 carries & Averaged 5.2 yards per carry
Receiving:
Blue Hens:
Diante Cherry: 4 Receptions for 83 yards & 1 TD
Jamie Jarmon: 4 Receptions for 36 yards
Hornets:
Fatu Sua-Godinet: 4 receptions for 93 yards
Jordan Hannah: 2 receptions for 23 yards
Defense:
Blue Hens:
Charles Bell: 7 tackles
Ray Jones: 6 tackles
Justin Watson:  4 Tackles & 1 Forced Fumble
Bilal Nichols: 4 Tackles & 0.5 sack
Armen Ware: 3 Tackles & 1 Fumble recovery
Cam Kitchen: 3 Tackles, 1 Fumble recovery, 0.5 sack & a safety
Nijuel Hill: 1 tackle & 1 INT
Hornets:
Malik Harris: 9 tackles & 1 sack
Keyjuan Selby: 8 tackles & 1 INT
Highlights:
https://desportsblitz.tumblr.com/post/164877327416/uds-defensive-lineman-cam-kitchen-tackles-dsus
Post Game recap with MVP of the game: Diante Cherry
Coach Rocco's Post game Recap